Do's and don'ts of designing nice and usable sticker packs for contributors.
Designining sticker packs is not that different from creating icon packs. Overall, our General design and technical guidelines apply. They should be consistent and aesthetically appealing, and they should not be a collection of different styles and sizes mixed together.
Comic-like style
Stickers should add character, emotion, and humor to any creations, so make them cute and fun. Their style is often cartoonish, inspired by comics, uses vivid colors, and can contain short text.
They should work on any background
The idea of stickers is that you can "stick them on top of anything," and they will be visible. This is why stickers often have a black outline or a thick white border. Although there are exemptions, the stickers should generally be "sticking" to any background.
Iconfinder will accept two variations of the same stickers. One pack with the white border and one without it. When you upload the files, please use the same file names for the variations of the same sticker. E.g. if a flame sticker without the border has tags "flame" "hot" "fire" then the same sticker with the white border should be also tagged "flame" "hot" "fire".
Name the packs with the same name and add "(bordered)" to the pack name with the white border. E.g.Office stickers and Office Stickers (bordered)
It is up to you as a designer to decide if you want to add a shadow to the stickers. It's not necessary, but it elevates them more from the content.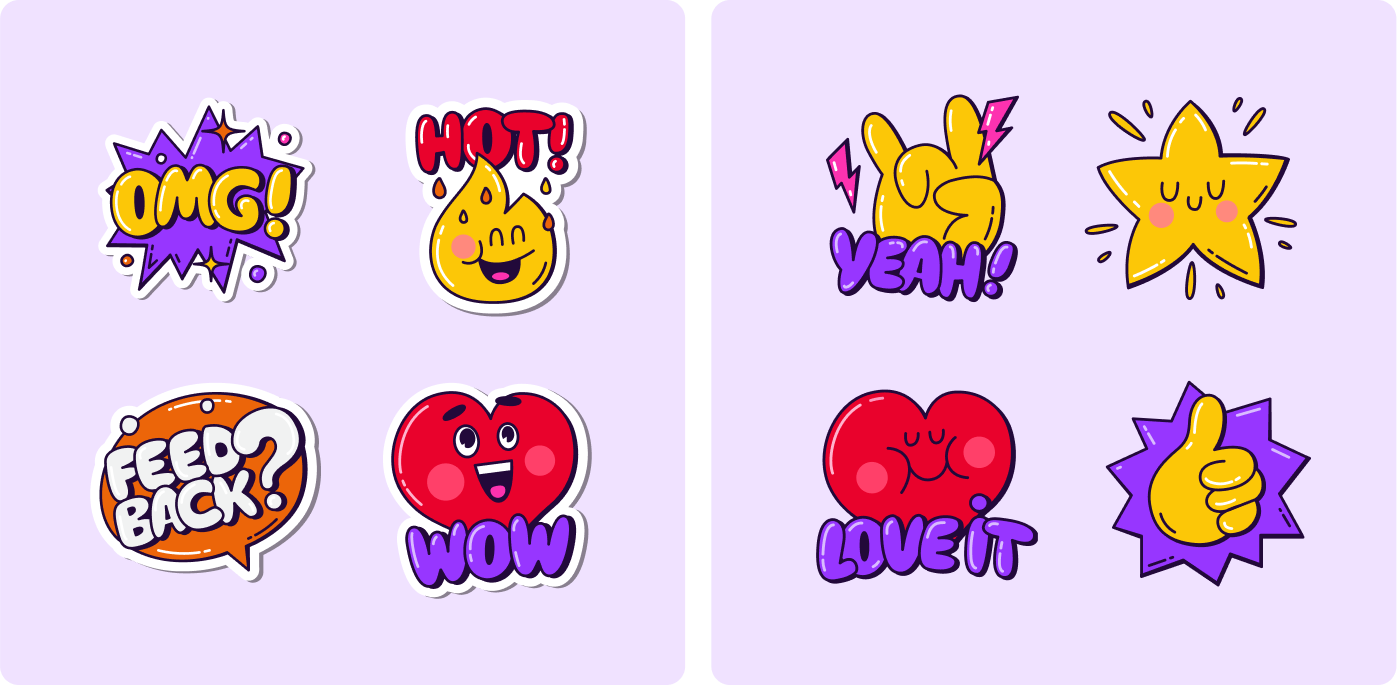 Please note that it's not mandatory to upload both sticker variations. If you prefer only to upload one version, that's okay too.
Use bold color palettes to make them stand out in any design
Stickers are often used to add a fun little element to possibly otherwise plain documents, boards, or designs. Make them stand out. Don't be afraid of neon and bright, lively colors.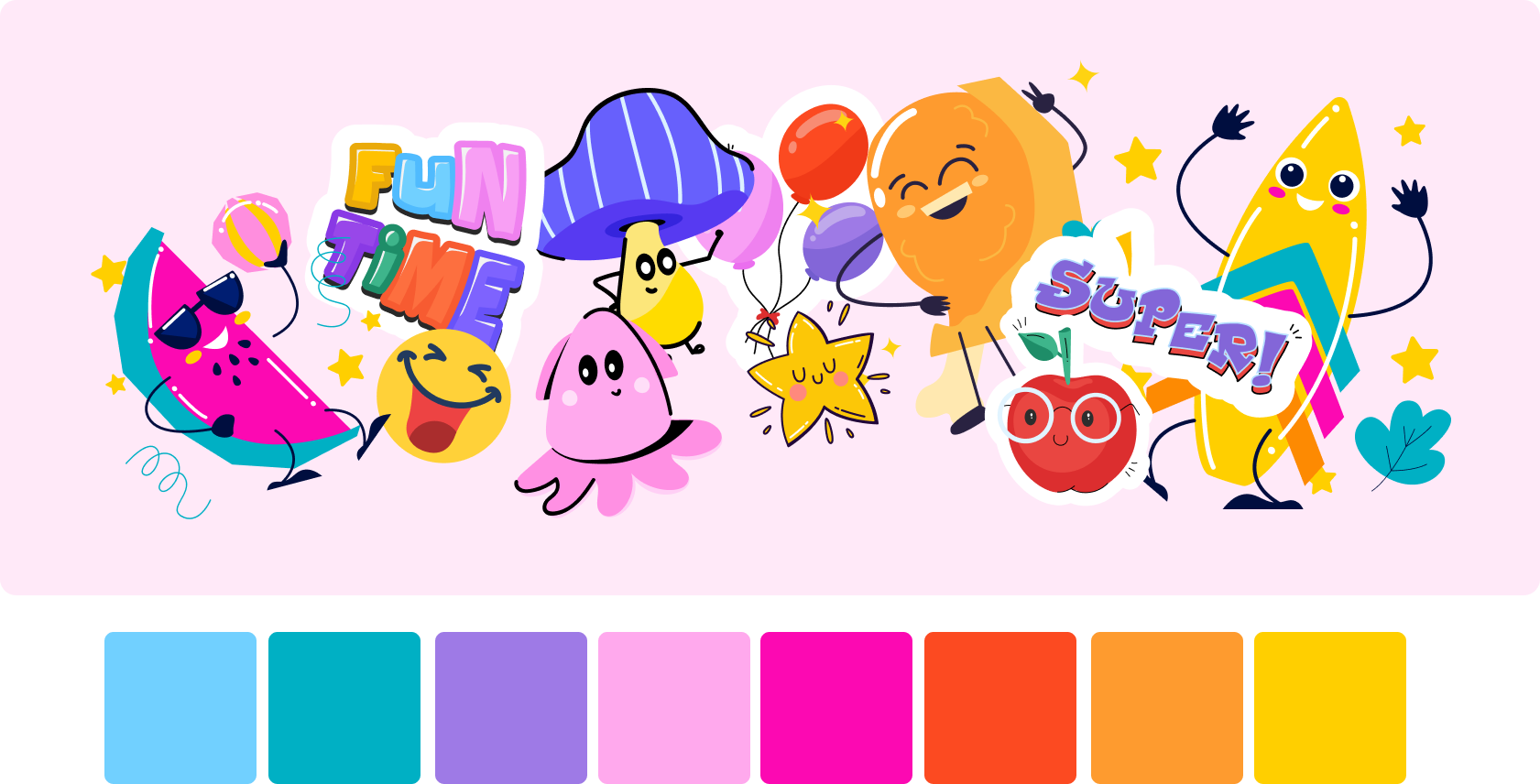 Size
People use stickers on top of different design creations, documents, etc. They are not supposed to be the main design element but just an addition to an already existing one. Don't use too much detail. Make sure they work in small sizes e.g 64x64px or 32x32px.
Picking and/or creating the right font for stickers
Stickers often contain text. When picking your font, or text style, make sure it's easily readable in small sizes and that the text is not too long. The font should fit with the sticker's style; e.g., a hand-drawn sticker would ideally be paired with a hand-drawn font. If you decide to create font-only stickers, the font should preferably be custom-made. Usually, straight-out of typeface stickers don't work without any alterations.

Consider the use
Think about the purpose of your sticker pack. Make them useful in online communication. Stickers can be expressive, informative, witty, or cute - kind of like emojis.
Iconfinder does not accept conversions
Converting icons to stickers for example by adding an outline or a shadow does not make them stickers. They will very likely lack in character and purpose and will not be useful. Iconfinder will not accept conversions like these.
Ideas for sticker pack topics
You don't have to stick to these, but you can get inspired.
Social media- E.g., New post, Link in bio, New reel, Swipe for more, Follow, etc...
Work environment- Out of office, Work in progress, See attached, Important, etc.
Events- Parties, Birthdays, Holidays, Seasons, etc...
Activity- On my way!, Busy, Sleeping, Coffee break, etc...
Digital Actions- Download, Open, Play, Click, Save, Browse, etc…
Food
Elements from different cultures
Ready to submit stickers to Iconfinder? Upload here →
For general guidelines on uploading and managing content on Iconfinder, see the Contributor's handbook →