We have launched a new Pro subscription plan for large teams.
⁠With Pro Enterprise, everyone in your company can create beautiful designs using icons, illustrations and 3D. And you, as the team lead, maintain control over the monthly credit consumption, monitor the usage trends, and can add or remove members anytime.
The plan is best suited for groups that are larger than 50 or use more than 500 download credits per month, but it's also great for smaller teams that plan to scale rapidly in the coming year.
Tip: if your team is smaller, we suggest considering the Pro Ultimate plan.
⁠No limits on number of seats or usage
Pro Enterprise focuses on flexibility and customization. We help you tailor-build the plan (number of seats and monthly credits) based on your current needs. There are no hard limits on either of the criteria.
Many of our new customers cannot tell how many credits their team will need in a month, and that's quite understandable. We give you an option to start with a 3-month trial where we test the credit usage before you commit to a fixed plan. During that time, we also help bring your team up to speed by arranging demo sessions and sharing quick user guides.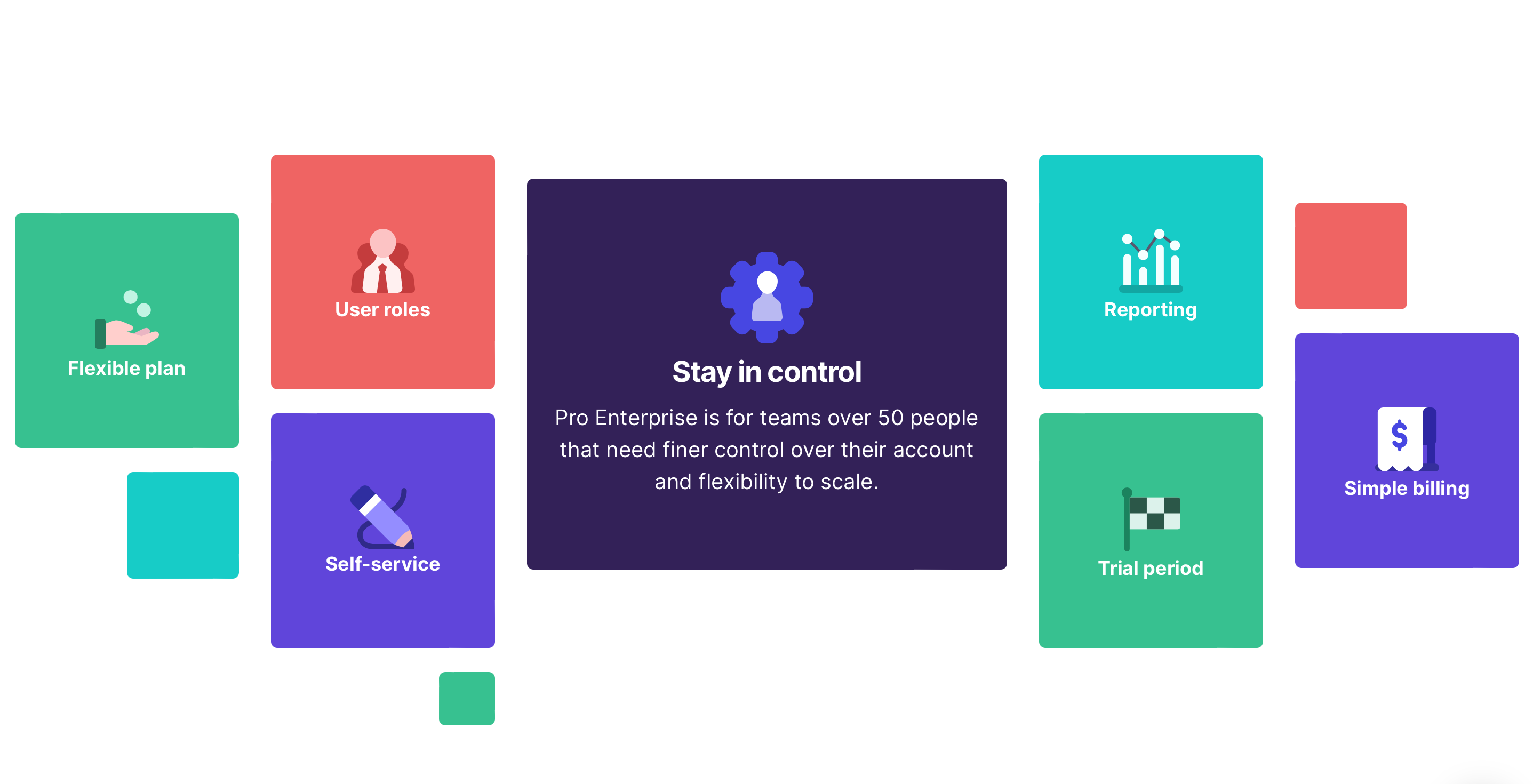 Expanded team controls
The plan has two types of user roles: team owner and team member. Both roles have access to all content and Pro features on Iconfinder, but the team owner also acts as an admin. They control payments and download credits and can add or remove team members.
Let's say your plan gives you 600 credits per month. But suddenly, your team is working on a large project that requires many icons or illustrations and you quickly use all 600 credits. As a team owner, you can always top up the credits with as many as you need when you log in to your account.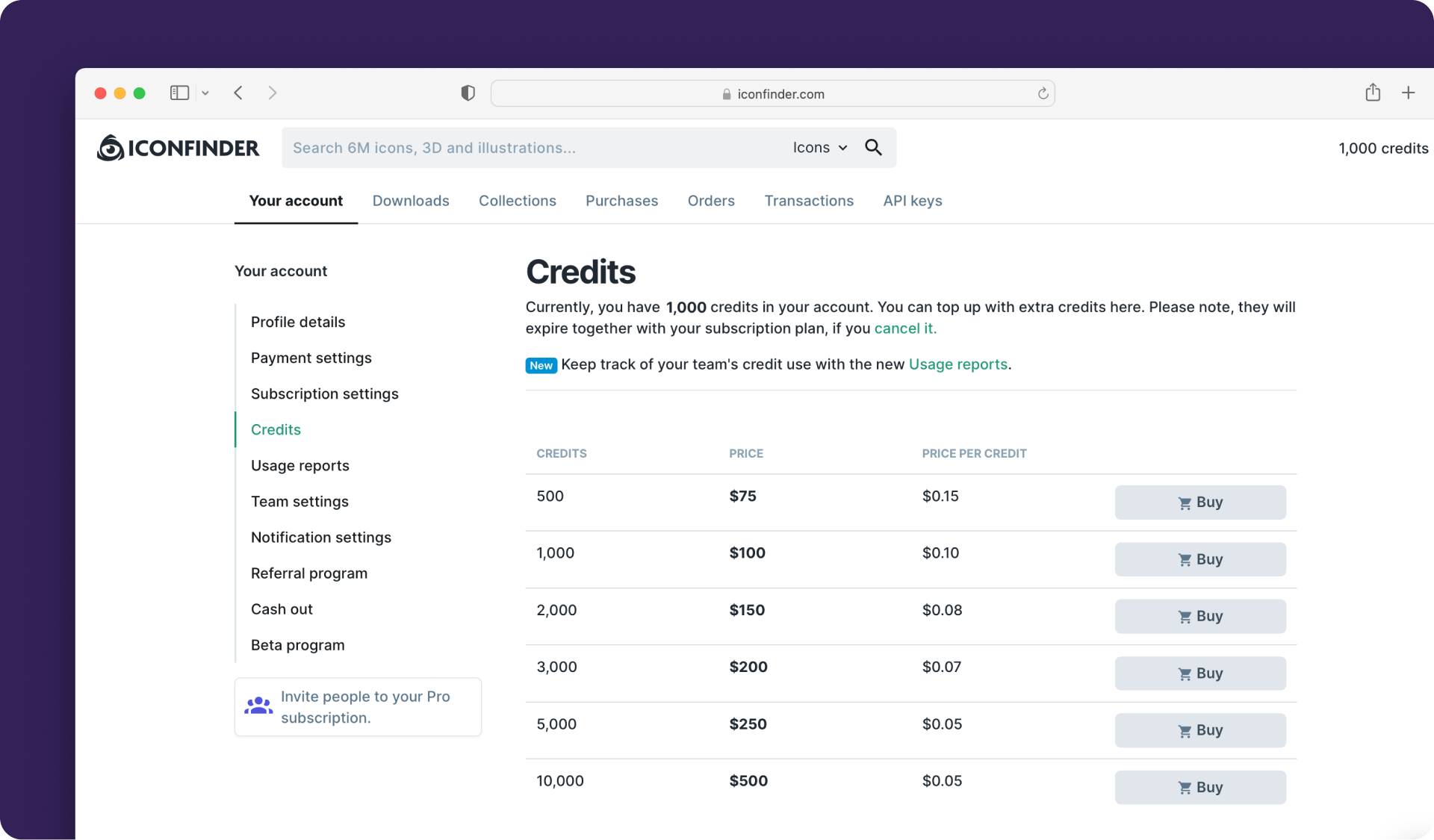 ⁠Usage reports
Team owners in Pro Enterprise have access to a rich set of metrics that can help forecast credit usage and guide you in making better-informed decisions.
You will see a timeline of credit usage, how it fluctuates over time, average use per seat, as well as individual member activity.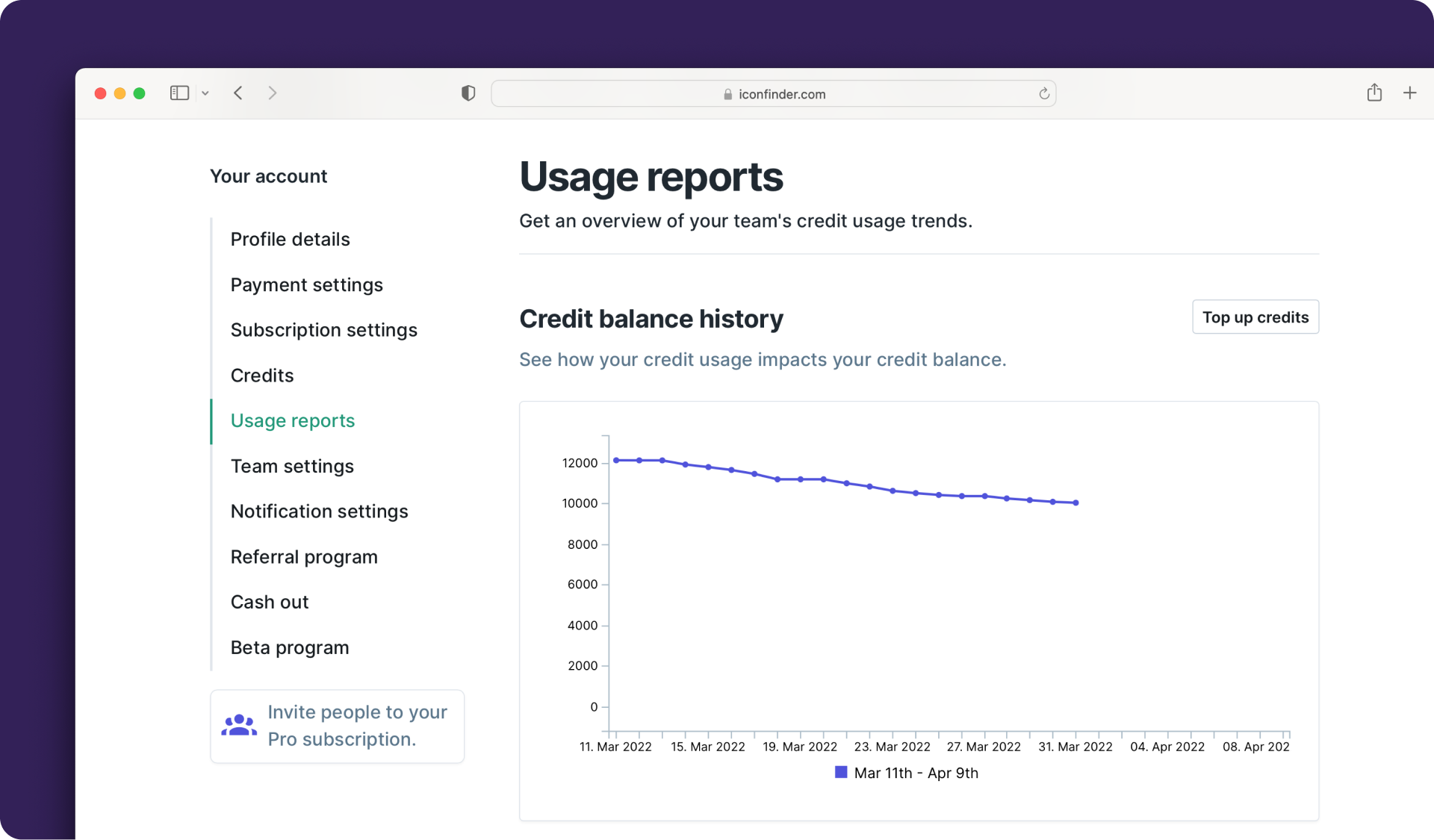 Ability to shape the product
Pro Enterprise brings you closer to the "kitchen" of Iconfinder by ensuring a feedback loop between your team and our product development. You have direct contact with an account manager, and we try to shape the product together by understanding your workflow, reporting your needs to our development, and then running betas and demoing features we build based on that information.
Pro Enterprise is a perfect match for agencies, creative departments, or organizations that produce a lot of visual content across different functions.
Read more about the Pro Enterprise. If you are interested in a plan for your team or organization, feel free to reach out directly at [email protected] and we'll get back to you shortly.